Once upon a time, in 2000, there were two craftsmen who had an idea. One of them made miniature log cabins and the other one was a glass artist, and they thought how nice it would be to put stained glass windows in the log cabin. Before too long, they had the idea of making this the house of the three bears, of Goldilocks fame. So of course, they talked to a bear maker about making the three bears, and a doll maker about making Goldilocks. And there needed to be porridge bowls, so a potter was included. And there needed to be spoons, so tin workers were included, and they also made some time sconces for the walls. And their daughter saw the project and offered to make quilts for the bed. A a fraktur artist wanted to make a folk art painting and birth certificate to hang on the walls, and a floral artist offered to make floral arrangements for the table and outside, and the potter made a pot to put them in. and a blacksmith made hinges for the door, and a leathersmith made a leather trunk, and before they knew it, 12 craftsmen were involved! A signed certificate of authentication is included with the cabin.
All of the craftsmen involved in the Goldilocks Project were juried members of the Reading-Berks Guild of Craftsmen, which means their work has reached a level of excellence recognized by their peers. They are all friends who support and encourage each other.
The Goldilocks Project Artisans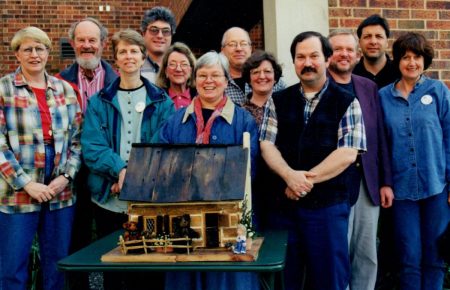 Terry Boyer (1860 Wood Company) has been making miniature reproduction log cabins since 1990, and just recently adapted his designs into dollhouses, 1 inch scale, so the project was a natural extension for him. This house was actually started in 1990, and finally came into being! All of the wood he uses is vintage, coming from structures in Berks and Lebanon Counties older than 1900, when square nails were still used.
Louise Mehaffey (The Glass Place) had to individually fit each window, since each opening was slightly different. She planned the design to match the country, rustic feeling of the house. She had recently expanded her skills to glass beadmaking with an oxygen/propane torch, so she also made several tiny beads, which Barbara Horst made into Mama Bear's necklace.
Barbara Horst (Grumpie's Corner) has made miniature jointed bears before but not as a family. Papa Bear, Mama Bear (with beads made by Louise Mehaffey), and Baby Bear are made of German Mohair and fully jointed. Much of the stitching on these miniature bears is done by hand, and Barbara used forceps to stuff them. The legs are filled with tiny glass beads, enabling them to stand.
Wilfriede Axsmith, dollmaker, creates dolls using techniques she learned as a child in Germany. To make Goldilocks, she sculpted the face, hands and feet from polymer clay; the face was then covered with cloth and painted to give her a unique personality. The body has a wire armature also covered by cloth so she can stand. Her dress was specifically designed to match her personality!
Mary and Dawson Gillaspy (Tin Toys by the Gillaspy's) retired as tin toy makers in 1999. Dawson was interested in the craft of tin miniatures, so this was a perfect chance for him to try out some of his ideas, including the tiny tin sconces. The spoons and forks were made by Mary, who was interested in spending much of her time in retirement pursuing her new interest, hooking rugs.Teddi Matz, fraktur artist, decided that Goldilocks would look at the walls and wonder about the "people" who lived thre, so she made framed frakturs, or folk art paintings. Of course one had to be "Home Sweet Home", and Baby Bear needed a birth certificate, with his birth date shown. The tiniest frame is made from match sticks, and gluing it together rather than to her fingertips was a challenge.
Steve Emith (Smith Leatherworks) saw the need for a trunk for the bears to store their spare linens. So Terry Boyer carved one, and Steve covered it with vegetable tanned tooling leather, with the straps serving as hinges. He used antique stains to age the leather. The bells on the door are a novelty, but certainly the bears would want a doorbell. Otherwise who knows who would wander in!
Beth Gillaspy Allen (The Blue Button) has made miniature quilts, but not this small. Papa Bear's qulit is a diagonally set Bear's Paw pattern, Mama's is Square in a Square, and Baby's is Split Rail. They were machine pierced and hand quilted, and the batting had to be split in half to make it thin enough. And of course they needed pillows and a spare comforter. She made the rug with a Russian punchneedle and one strand of embroidery floss.
Eugene Burkhart (Burkhart's Flowers) created the pressed flower designs and the dried floral arrangements to make the house a home, and he was challenged to find plant material small enough! Gene harvests from his own gardens and presses or dries the plant material himself. To get these miniatures, he had to use the smallest forms of plant life and even take some flowers apart. Terry Boyer made the frames and Christine Wert made the planters – a real joint effort.
Christine Wert (Folk Art by Chris Wert) decided the bears needed a honey pot, and of course, they needed porridge bowls and other crockery. The miniature redware pieces were formed by hand, making each piece unique. The planters, filled by Gene Burkhart, are terra cotta and two are decorated with sgraffito. These are the smallest functional works she has ever produced.
David Fisher (Fisher Forge) was bored making the usual hooks and such, and was looking for a fresh challenge. He certainly found it! The strap hinges on the door are only 1 1/2" long, compared to the normal 6" to 6′. And the fireplace needed cooking equipment to make the porridge so he made the kettle crane and kettle. The "B" on the chimney leaves no doubt this is the Bear Family's home.
Kari Saragusa (Gander Woodworks) had never considered creating miniature furniture, even though he has made full size furniture for many years. His woodcarving style has a folk art flavor which lends itself to the décor of the Bear's home. The furniture is his original design and constructed of basswood and pine. The project was immensely enjoyable, and he is looking forward to continuing with miniature furniture, and maybe even miniature clocks.