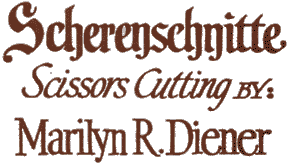 "Scherenschnitte" is the German word for scissor-cutting.  Designs are cut, using an iris scissors and or an x-acto knife, from a single sheet of paper or from a folded piece of paper to create a symmetrical design.  The art was brought to Pennsylvania by Swiss and German immigrants in the mid 1700's.   Many of these early pieces, which were records of special occasions were embellished with fancy German Script and watercolor – then slipped into the family Bible for safe keeping.  Scherenschnitte nearly disappeared in the last century, but has regained some popularity with a renewed interest in traditional arts and crafts.Scissor-cutting as a craft is practiced in many cultures today.

Please call or email for my current show schedule
610-375-7398 or 610-223-2770
mdiener20@hotmail.com
Additional and Ordering Information.  Other Designs and Commissioned Work available.  Please e-mail Marilyn: mdiener20@hotmail.com  All artwork is an original and may vary some what from original shown, each piece is unique, but similar.
Please allow 4 to 6 weeks for completion and delivery.  If needed before allotted time, please add $15.00 rush charge to order.
Paper Color.  Scherenschitte artwork is executed in your choice of Black, Blue or Burgundy paper.  Please indicate paper color when ordering.
Frame and Matting.  Price includes artwork mounted on acid-free cream colored background and a wooden frame that compliments the artwork.  Additional Charge for Custom Matting and/or Special Mouldings (ie., solid cherry, solid mahogany) and must be agreed upon by both parties.
Wedding Invitations or Birth Announcements.  These personalized orders require a typed or printed copy of information. If possible a photocopy of wedding announcement or birth announcement is preferred. Artist is not responsible for errors resulting from illegible copy.
Printable Form for Custom Wedding Invitation
Printable Form for Birth Certificate
Shipping Costs within Continental USA.  Add 15% of order to cost, minimum $6.00.  Note cards add $3.50 per 3 pack for shipping.  Additional charges for deliveries to Alaska, Hawaii, and countries other than USA. Contact for shipping and handling charges.  Pennsylvania residents add 6% sales tax to the subtotal.  Items shipped upon completion and receipt of total payment. (Overseas/International delivery may vary.)
Payment and Orders.  Printable Order Form  Payment is accepted in the form of a personal check (US dollars only), International Money Orders, or Mastercard/Visa, American Express, Discover by phone or mail.
Call or email for address:    610-375-7398 or 610-223-2770

General Catalog.  A general catalog is available by sending $3.00(US) and your name and address to the above address.
Return and Exchanges.  If you are not completely satisfied with your purchase(s), please contact us within 48 hours. Credit/Refunds will be issued only after item has been received by us, undamaged. We will then issue credit (less postage) to your account.